Intermission Performances
What Is An Intermission Performance?
The Thunder offer performances of every variety during home games, ranging from dance routines to karate demonstrations to figure skating to gymnastics routines and musical acts as well as many more are welcomed! If you'd can provide our fans with an entertaining intermission performance, give us a call at 518-480-3355 x1!
How Much Does This Cost?
All performers and guests (Family, Friends, etc) will need a ticket to the game that night, but the performance is no additional cost! The Thunder offer group ticket packages at $15 per ticket for all groups of 10-or-more, with each ticket including a hot dog and a soda!
Can I Make My Group Outing Into A Fundraiser?
Absolutely! The Thunder offer all group outings the option to raise money through their group outings and we saw groups raise over $1,000 from a single fundraising outing a season ago. Talk with a Thunder Group Manager about the possibility of raising money through a Thunder group night.
What Are Some Other Benefits Of A Thunder Outing For My Group?
The chance to play or perform in front of thousands of fans
Great seats for the fast-paced, hard-hitting action of Adirondack Thunder hockey
10% Discount on Official Adirondack Thunder merchandise on your game night
Personal Account Executive to make your party's experience enjoyable and memorable
Groups announced and shown live on the Video Board during the game
Receive exclusive ticket offers all season
SAVE UP TO 40% ON BOX OFFICE PRICES!
Contact Sarah, our Group Sales Manager, at 518-480-3355 x300 to book your performance today!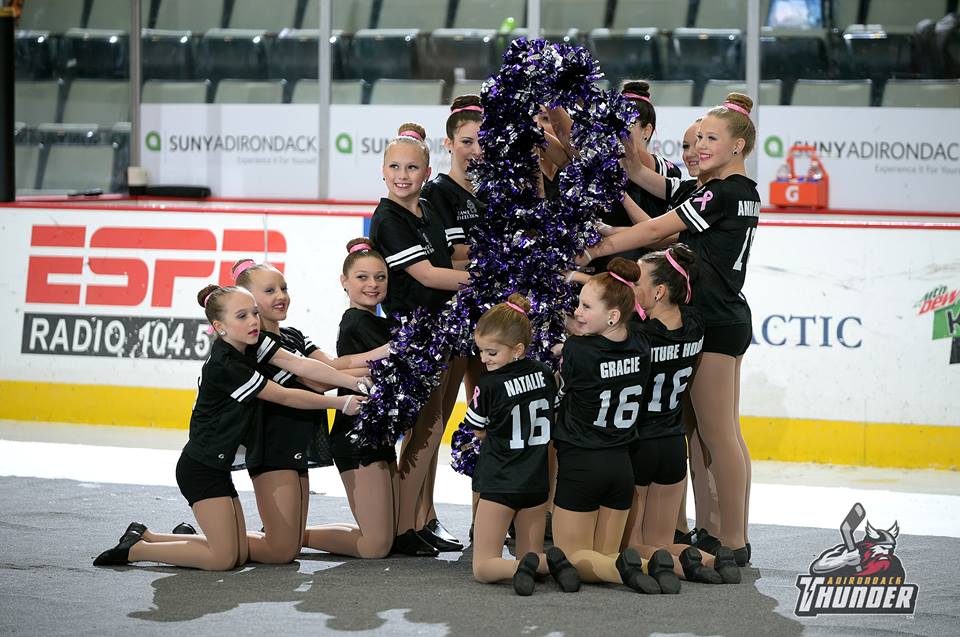 About the Thunder
The Adirondack Thunder are the proud members of the ECHL and will begin their 2017-18 season on October 14, 2017 at Cool Insuring Arena. The Thunder enter their third season of ECHL play, following two consecutive playoff berths, including reaching second round of the Kelly Cup Playoffs in 2016, the first time since 1994 that an Adirondack team won a playoff series.
Quick Links
Find Us
Glens Falls Civic Center
Adirondack Thunder
1 Civic Center Plaza
Glens Falls, NY 12801
518-480-3355
info@echlthunder.com