National Anthem
National Anthems
There are three song choices for groups to perform at all 36 Thunder home games: The National Anthem, God Bless America, and America The Beautiful. At each of the Thunder's game against the Brampton Beast, the Canadian National Anthem will also be an option.
How Much Do Tickets Cost?
Tickets are $15 for all national anthem groups, which includes a hot dog and a soda for each ticket. National anthem groups can also use their outing as a fundraiser for their school or group. Fundraising tickets also cost $15 but $5 from each ticket sold goes back to the group!
What Else Does My Group Outing Entail?
National Anthem groups may be eligible to play an intermission game, take a locker room tour during the game or get a group photo on the ice after the game ends! Check out our Group Incentives for more information.
How Can I Book My Group For A National Anthem?
Interested Groups Should contact Molly Coventry, Group Sales Manager, at 518-480-3355 x315 or by email at mcoventry@echlthunder.com. You can also fill out our ticket request form HERE.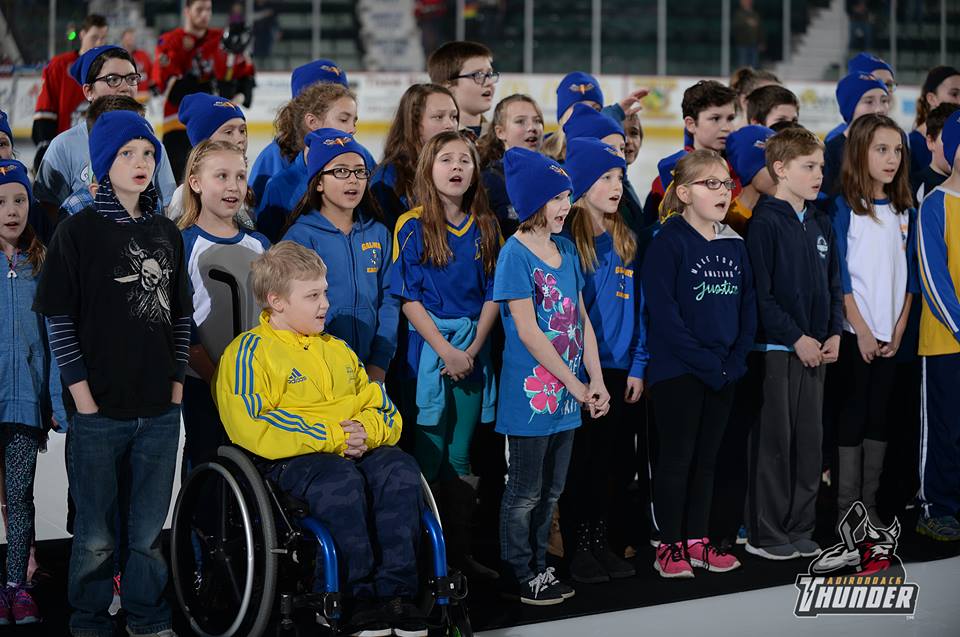 About the Thunder
The Adirondack Thunder are the proud members of the ECHL and will begin their 2017-18 season on October 14, 2017 at Cool Insuring Arena. The Thunder enter their third season of ECHL play, following two consecutive playoff berths, including reaching second round of the Kelly Cup Playoffs in 2016, the first time since 1994 that an Adirondack team won a playoff series.
Quick Links
Find Us
Glens Falls Civic Center
Adirondack Thunder
1 Civic Center Plaza
Glens Falls, NY 12801
518-480-3355
info@echlthunder.com