Birthday Parties
What Does a Thunder Birthday Party Consist Of?
A Birthday Party with the Thunder consists of a pre-game party in Heritage Hall with an appearance from our mascot, Gunnar. We will serve pizza and cupcakes before the game, get a full group picture together and then you can enjoy the Thunder hockey game seated with your entire party together! We will make sure to shout you out on the video boards during the game during our birthday mentions!
Are There Any Special Perks For The Birthday Kid?
Of Course! The birthday child will receive a signed player puck as a special present from the Thunder!
When Can I Have A Thunder Birthday Party?
Birthday Parties are available during all Thunder Home Games, based upon availability.
How Much Does A Party Cost?
Birthday parties require a minimum of 10 attendees, they will receive a ticket to the game, 2 pizzas, soda and cupcakes. Cost per person in attendance is $20. A $200 deposit is required to hold the party date requested. A final count must be turned in to the Thunder 5 days before game date to secure the food for the party.
*Please note, decorations are not included. There may be multiple parties at the same time.
How Do I Reserve My Party?
Contact Molly Coventry at mcoventry@echlthunder.com or by phone at 518-480-3355 x315. You may also fill out our ticket request form HERE with your information and we will get back to you!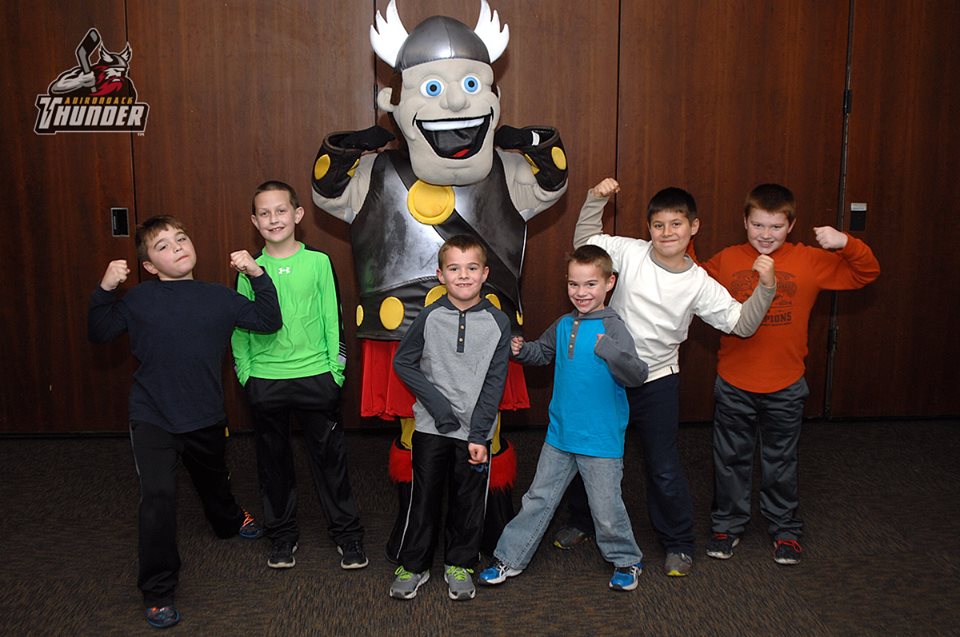 About the Thunder
The Adirondack Thunder are the proud members of the ECHL and will begin their 2017-18 season on October 14, 2017 at Cool Insuring Arena. The Thunder enter their third season of ECHL play, following two consecutive playoff berths, including reaching second round of the Kelly Cup Playoffs in 2016, the first time since 1994 that an Adirondack team won a playoff series.
Quick Links
Find Us
Glens Falls Civic Center
Adirondack Thunder
1 Civic Center Plaza
Glens Falls, NY 12801
518-480-3355
info@echlthunder.com