2016 Player Tracker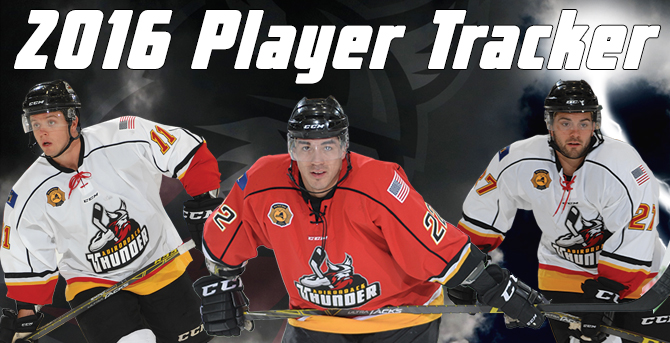 2016 PLAYER TRACKER
Let us keep you in the loop as we build our 2016-17 Roster!
The offseason is always the worst time of the year for a hockey fan and the #IsItOctoberYet hashtag can only take us so far. With no games being played and in our world, no players signed, it can tend to drag on a bit. Our Coaching Staff and General Management is hard at work in the summer months, however, working on building a competitive roster for the 2016-17 season, the second of Adirondack Thunder hockey.
The ECHL has several deadlines and nuances that will keep you in the loop on player signings and letting you know if your favorite Adirondack Thunder player will be back in Glens Falls next season. The following dates are your "need to knows" for the 2016 offseason.
June 1 — ECHL Protected lists due
This gives teams the option to protect as many of its players under certain criteria to retain negotiating rights. Only players signed to Adirondack contracts (ECHL) are eligible for this protection, meaning players like Michael Kirkpatrick (Stockton, AHL), Ken Appleby (New Jersey, NHL) and Joe Faust (Albany, AHL) are not eligible to be on the Thunder's protected list.
June 13 — Future Considerations deadline
Any outstanding future considerations from the 2015-16 season must be completed by 3:00 p.m. on June 13.
June 15 — Season Ending Rosters due
The Season Ending Roster is a list with a maximum of 20 players who played for Adirondack under an ECHL contract in 2015-16 and would be eligible to sign a Qualifying Offer. So for the Thunder, players such as Dana Fraser or Greg Wolfe, who played out the 2015-16 season on an ECHL deal would be eligible to be named to this list. A player such as Matt Wilkins, who played with the Thunder on an ATO after his college career, would not be on this list.
June 16 — First day to sign ECHL contracts for 2016-17 season
June 16 is the first day players can sign an ECHL contract. This will be the first date that anyone can expect to see a Thunder ECHL transaction.
June 30 — Qualifying Offers due
Each ECHL team is entitled to reserve the rights to a maximum of eight qualified players from the initial Season Ending Roster from June 15 up to this date. Up to four of those players can be Veteran players - players who will have played 260+ professional games in qualifying leagues at the start of the 2016-17 season. Forward Peter MacArthur is an example of a veteran player from the 2015-16 Thunder roster. These offers expire on August 1.
At the ECHL level, roster turnover tends to happen from year-to-year. Of the players that Adirondack inherited from Stockton last offseason, only three continued over to Glens Falls (James Henry, Ryan Constant, Mike Busillo). Most teams see more players than that retained, but many players tend to switch leagues or teams in the offseason. Listed below is a full list of signings and where various Thunder players fall in terms of free agency and rights.
Signed - Adirondack
Qualified By Adirondack
Kyle Flanagan
Signed - Stockton
Ryan Lomberg
Signed - New Jersey
Ken Appleby
Unrestricted Free Agents - Eligible to Sign in the NHL, AHL, Europe, etc
Michael Kirkpatrick (AHL - Stockton) - Signed ECHL Contract w/ Florida (8/29)
Louick Marcotte (AHL - Stockton) - Signed ECHL Contract w/ Wichita (7/19)
Mitchell Heard (AHL - Stockton) - Signed AHL Contract w/ Charlotte (8/11)
Joe Faust (AHL - Albany) - Signed ECHL Contract w/ Idaho (8/11)
Adirondack Thunder 2016 Protected List
Ryan Constant (Veteran)
Mike Busillo
Drew Fielding
Hunter Garlent
Jeff Silengo
Rob Bordson - Signed With Fischtown Pinguins (Germany)
David Shields - Signed AHL Contract w/ Utica
Lucas Gore
Klarc Wilson
Vincent Scarsella - Signed With Dundee Stars (EIHL)
Jack MacLellan
Brad Stebner
Carter Rigby
Retired
About the Thunder
The Adirondack Thunder are the proud ECHL affiliate of the NHL's Calgary Flames and begin their 2016-17 season on October 22, 2016 at the Glens Falls Civic Center. The Thunder enter their second season of ECHL play, following an inaugural season that saw the team advance to the second round of the Kelly Cup Playoffs, the first time since 1994 that an Adirondack team won a playoff series.
Quick Links
Find Us
Glens Falls Civic Center
Adirondack Thunder
1 Civic Center Plaza
Glens Falls, NY 12801
518-480-3355
info@echlthunder.com