Hockey Operations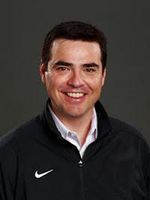 Brad Pascall
Assistant General Manager, Calgary Flames
Brad Pascal served as Vice-President of Hockey Operations/National Teams with Hockey Canada since 2010. He brings an abundance of international hockey experience as he has worked in various capacities with Hockey Canada for the past 18 years. He served as Hockey Canada's Senior Director of Men's National Teams from 2006 to 2010 and was the Senior Director of Communications from 1998 to 2009.

Among his achievements, he played an instrumental role for Canada's gold medal Men's Olympic Team at the 2014 Olympic Winter Games in Sochi, Russia. Four years earlier, he collected gold with the Men's Olympic Team at the 2010 Olympic Winter Games in Vancouver. He has also been a member of team operations for Canada at the IIHF World Championship in 2009, 2010, 2011 and 2012 and directed Canada's National Junior Team to gold medals at the 2007, 2008 and 2009 IIHF World Junior Championships. Brad's gold medal collection also includes the Canada/Russia Super Series in the summer of 2007 and with Canada's National Men's Summer Under-18 Team at the 2006, 2012 and 2013 Ivan Hlinka events.

Prior to advancing to the lead position with hockey operations, he led the media relations for Canada's national teams (men's and women's) at the 2002 and 2006 Olympic Winter Games, the 2004 World Cup of Hockey, eight IIHF World Championships (1998, 2000, 2001, 2002, 2003, 2004, 2005, 2008), four IIHF World Junior Championships (1999, 2003, 2005, 2006) and two IIHF World Women's Championships (2000, 2004) and was Coordinator of Media Relations for Canada at the 1996 World Cup of Hockey.

Drafted by the Buffalo Sabres in the fifth round (103rd overall) of the 1990 NHL Entry Draft, Pascall played two seasons in the AHL with Rochester and two seasons in the ECHL with South Carolina and Birmingham after four seasons (1988-92) at the University of North Dakota. He and his wife, Cassie have a daughter, Brooke and make Calgary their home year round.
About the Thunder
The Adirondack Thunder are the proud ECHL affiliate of the NHL's Calgary Flames and begin their 2016-17 season on October 22, 2016 at the Glens Falls Civic Center. The Thunder enter their second season of ECHL play, following an inaugural season that saw the team advance to the second round of the Kelly Cup Playoffs, the first time since 1994 that an Adirondack team won a playoff series.
Quick Links
Find Us
Glens Falls Civic Center
Adirondack Thunder
1 Civic Center Plaza
Glens Falls, NY 12801
518-480-3355
info@echlthunder.com