Thunder Ambassadors Program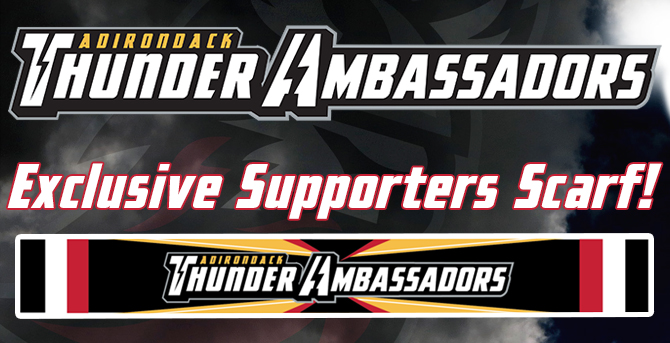 What Is a Thunder Ambassador?
The Thunder Ambassadors program provides an opportunity to our most loyal fans to become an extension of the Adirondack Thunder team, staff and brand. Thunder Ambassadors will help the franchise grow the Thunder brand throughout the Adirondack region in an effort to maximize the team's awareness and improve its deliverables both in the community and at home games.
What Do I Get For Becoming a Thunder Ambassador?
All Thunder Ambassadors will receive an exclusive Adirondack Thunder Supporters Scarf, pictured above, available only to Thunder Ambassadors. The program is free to join for all ticket plan holders!
Who Are Already Thunder Ambassadors?
A current list of Thunder Ambassadors can be found
HERE
.
How Do I Become a Thunder Ambassador?
If you are interested in joining the Thunder Ambassador, please contact Sean Driscoll by email at sdriscoll@echlthunder.com or by phone at 518-480-3355 x319.
About the Thunder
The Adirondack Thunder are the proud ECHL affiliate of the NHL's Calgary Flames and begin their 2016-17 season on October 22, 2016 at the Glens Falls Civic Center. The Thunder enter their second season of ECHL play, following an inaugural season that saw the team advance to the second round of the Kelly Cup Playoffs, the first time since 1994 that an Adirondack team won a playoff series.
Quick Links
Find Us
Glens Falls Civic Center
Adirondack Thunder
1 Civic Center Plaza
Glens Falls, NY 12801
518-480-3355
info@echlthunder.com