Mug Club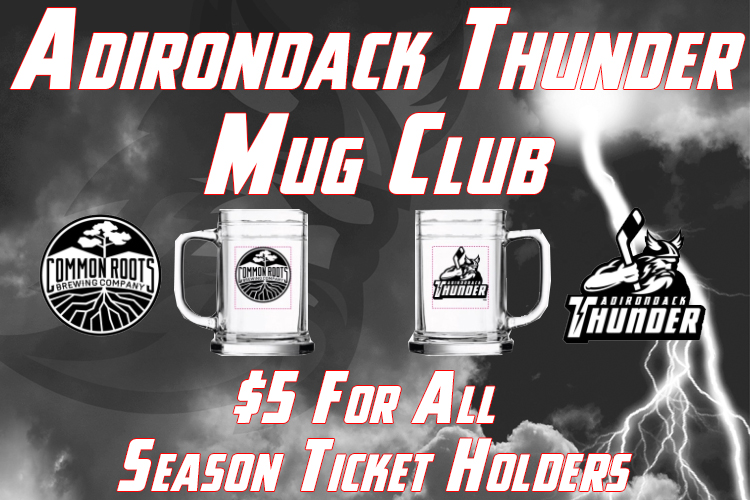 The Adirondack Thunder's Mug Club is a special perk for full season ticket holders. The Mug Club is a one-time, $5 member fee, available only to Season Ticket Holders, that saves you money off of your beer, soda and water purchases in Heritage Hall! This season's mug, presented by Common Roots is a 16 oz, glass mug that can be used all season long.
The Mug Club entitles the owner to the following:
$5 - Labtt Blue or Bud Light
$6 - Common Roots
$1 - Soda (Pepsi Products)
The mug club discount is good in Heritage Hall ONLY. Season Ticket Holders can pick up their mugs on Opening Night in the main lobby. Cash and check will be accepted at the mug club table in the main lobby.
About the Thunder
The Adirondack Thunder are the proud members of the ECHL and will begin their 2017-18 season on October 14, 2017 at Cool Insuring Arena. The Thunder enter their third season of ECHL play, following two consecutive playoff berths, including reaching second round of the Kelly Cup Playoffs in 2016, the first time since 1994 that an Adirondack team won a playoff series.
Quick Links
Find Us
Glens Falls Civic Center
Adirondack Thunder
1 Civic Center Plaza
Glens Falls, NY 12801
518-480-3355
info@echlthunder.com